Brett Beveridge Honored At The 7th Annual Extraordinary Women Leading Change Conference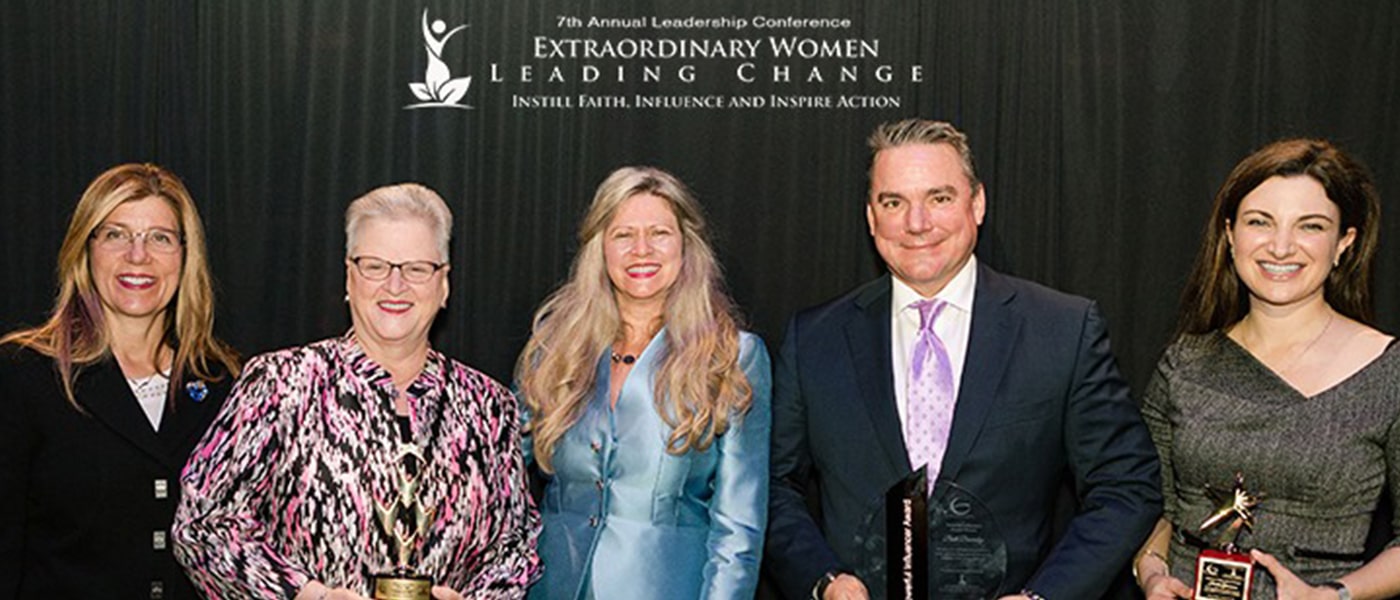 The T-ROC Founder and CEO is recognized with the "Powerful Influencer" Leadership Award.
For seven years running, GCI Worldwide Corporation has hosted the Extraordinary Women Leading Change (EWLC) Annual Leadership Conference. This gathering of entrepreneurs and executives recognizes those corporate leaders who have long championed the tenets of inclusion and equal opportunity, and who also make it a point to give back to their communities in ways that create positive change.
The 2019 EWLC Leadership Conference was held at the American Airlines Arena in Miami on October 31st and attending was a who's who of business and social influencers. Thought-provoking ideas were shared. Inspiring personal stories were told. Companies were connected in strategic partnerships, and, as always, the event was driven by a collective desire to embrace new perspectives and find ways to translate them into bottom-line success for companies and greater good for communities.
The Honorees of 2019
The conference was also a chance to honor some of the business leaders who have walked the walk their entire careers. Among those recognized was Brett Beveridge, Founder and CEO of The Revenue Optimization Companies. Mr. Beveridge received a "Powerful Influencer" Leadership Award, an honor bestowed upon outstanding leaders who have proven to be a force for good; who strive to lift others up both personally and professionally; and who have consistently demonstrated a commitment to advancing gender inclusion and equal opportunity.
Beveridge is a serial entrepreneur who has built numerous successes in the retail and technology sectors, bringing four of them together as The Revenue Optimization Companies or T-ROC. This retail juggernaut integrates personnel, operations, merchandising, engagement, training, and smart data solutions for Fortune 500 brands and retailers, including Apple, Samsung, Walmart, Xfinity, AT&T, Home Depot and many others.
T-ROC's diversity in capabilities is driven by the diversity of its teams. The company was founded upon the concept that embracing differences is a tremendous business advantage; that when professionals of various backgrounds come together in an environment that encourages open dialogue and collaboration, the resulting ideas are far more innovative and the ensuing solutions are far more powerful.
Alongside Beveridge, three other Leadership Award winners were honored by GCI Worldwide and EWLC. They included Heather Geronemus, who spearheads Public Relations for Ultimate Software; Penny Shaffer, Florida Blue Market President for South Florida; and Erik Sussman, President of Mass Mutual Financial Group South Florida.
"It was remarkable to sit alongside fellow leaders in our business community and be recognized for the positive effects of the change we are enacting," said Brett Beveridge, CEO and Founder of T-ROC. "GCI Worldwide Corporation and each of the businesses involved in the Leadership Conference are inspiring and playing important roles encouraging positive change and growth for all businesses and our neighbors in South Florida."
Instill Faith, Influence and Inspire Action
The mission of the Extraordinary Women Leading Change movement is to make the world a better place one company and one community at a time. The Leadership Conference is the chance to recognize those business leaders who use their platforms to influence positive change, to help others become their best, and to promote good in their communities. It's a forum where leaders are invited to grow their businesses, while helping others further their own careers, companies and communities.
If you'd like to learn more about Extraordinary Women Leading Change and the 2019 Leadership Conference, visit https://www.gciwcorp.com/events/extraordinary-women-leading-change/. For more information about the Revenue Optimization Companies, visit http://trocglobal.com/.